by Julie Willis, Editorial Director and Systems Lead
Accessibility in publishing is rapidly becoming a focus for publishing professionals. Particularly for those operating in Europe, where the European Accessibility Act will become compulsory after 28th June 2025, after which ePubs will need to be fully accessible.
To start addressing accessibility in your own titles and products, whether digital or print, it's important to consider what is meant by accessibility, the 'why' behind our mission, and where we can find the tools and resources to make an impact.
In this article, learn more about the key definitions and standards, game-changing organisations and essential tools to help guide your digital accessibility journey.
1. Understand what is meant by accessibility
Accessibility can be defined as 'the degree to which a product, device, service, or environment is available to as many people as possible.' (DIB, 2023)
In publishing terms, the Publishers Accessibility Action Group (PAAG) says: 'The goal of accessible publishing is to facilitate readers of all abilities to access the same content with equal ease and without problematic boundaries. This can only be fully realised by small and big decisions at every stage of the publishing process, from the spark of an idea to the end consumer of a work.' (2023)
2. Identify the barriers – and how to overcome them
The DAISY Consortium and others use the term 'people with print disabilities', though they are not just talking about people who are unable to use physically printed material. These individuals may have cognitive disabilities, neurodivergence (such as ADHD, ASD, dyslexia, sensory processing disorder), vision impairment, or physical disabilities that create challenges and barriers to accessing information both in ePubs and printed form.
Side note: Unlike equality, equity describes recognising our individual differences and the need to provide resources, technology, training, equipment and reasonable adjustments to 'level the playing field'. Equality describes equal rights, no discrimination on any grounds and an assumption that a universal treatment of all will create equal opportunities. This does not remove barriers for those with disabilities.
Focussing on accessibility means identifying those barriers and overcoming them using technological advancements in digital publishing and other methods already available, such as audio transcripts for multimedia content within your ebooks. It also means prioritising this approach across your entire catalogue.
One such barrier can be found in academic texts that rely on complex and colour-coded graphs to convey essential data. This information will be inaccessible to people who are blind or have low vision, and to people who are colour blind, unless detailed alt text is supplied for a screen reader to read out. Listening to samples of your ePubs via a screen reader is a good habit to get into and will help you understand the alternative reading experience they give and any issues they might contain.
3. Gain momentum with the 'why'
In addition to the European Accessibility Act, there are a number of additional reasons why publishers should be seeking to make their content as accessible as possible to a wide range of people. These may help to get your colleagues and leadership teams on side.
Commercially, it has been demonstrated that customers will buy into your brand if your core values as a business mirror their own. An example of this is Apple, whose commitment to improving accessibility by technology is evident in many of their developments. Examples are Siri, a voice enabled user interface for your phone, audio descriptions on Apple TV and VoiceOver, a screen reader for your Apple phone or device.
There are approximately 87 million people in the EU with a disability (European Commission, 2023). A business that prioritises accessibility will attract some of that market.
Morally, equity is a goal of modern society. Everyone should be able to have a similar user experience and should have the same level of access and opportunity. This right of access extends to the digital experience of accessing published content.
There is still debate about what the European Accessibility Act ultimately means in terms of backlist conversion, what the timescales are, and if there are any exemptions – so it will be important to stay up to speed on the latest requirements.
4. Tap into tools, organisations and standards
This is where all the groundwork starts to pay off, and you can start taking the steps towards more accessible ebook publications. But you don't need to go it alone. There are a number of tools, organisations and existing accessibility standards to guide you.
Learn what makes ePubs accessible
There are a number of ways in which an ePub can be more accessible to a wider range of readers:
Include alternative text (alt text) descriptions for images – Figures 1 and 2 are examples of a two-page spread in a fixed layout ePub (this means the pages are not reflowable and will remain in that layout because they are in a complex multi-column layout). Figure 1 shows a page that has no logical reading order imposed for screen readers. Figure 2 shows the same layout with the reading order defined, and images that are purely decorative are marked as such.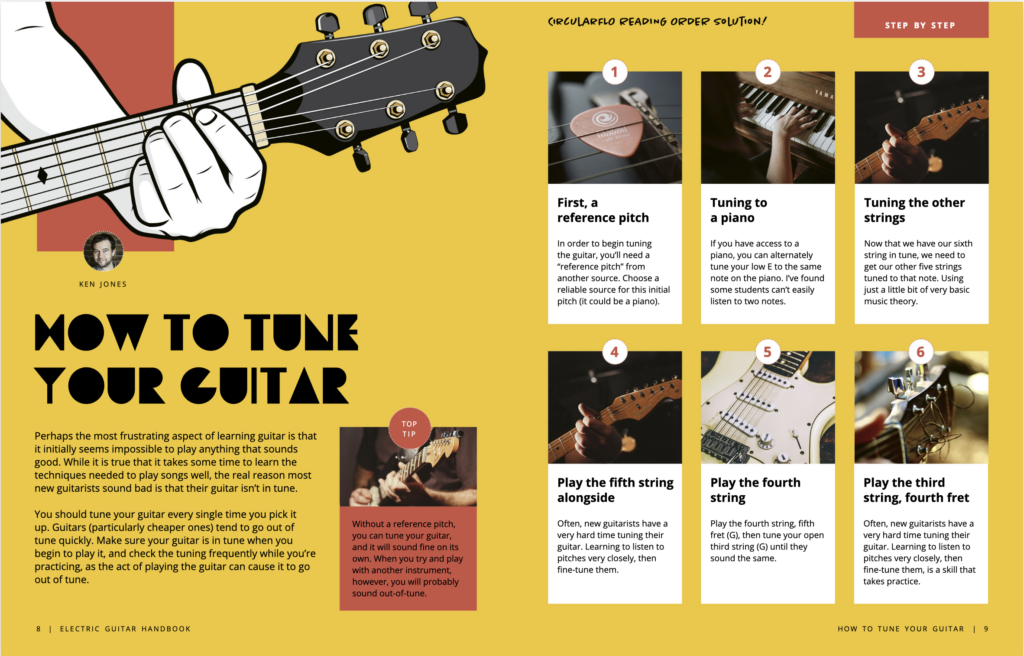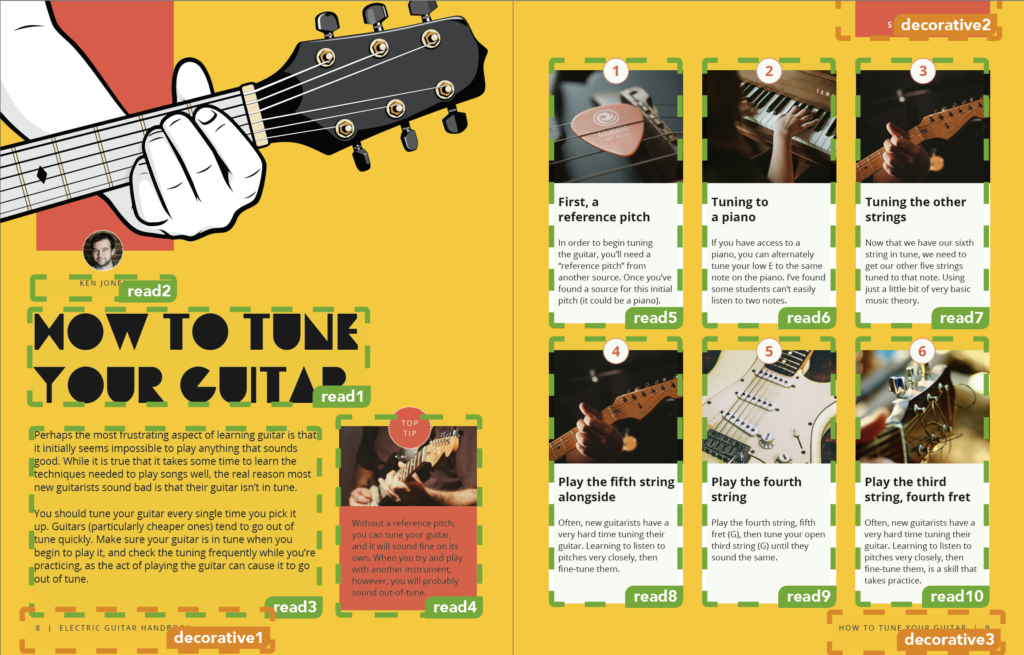 Tag table elements correctly
Ensure the reading order of the page is logical
Make sure text is scalable and transformable
Don't rely on colour for meaning
Consider colour contrast between text and backgrounds
Make transcripts available for any multimedia content
(You can learn more about the principles of building accessible ebooks in this BookMachine article.)
Lean into the accessibility powers of AI
Artificial intelligence (AI) has a role in accessibility. AI is supplementing text-to-speech technology and automatically generating descriptive metadata, such as alt text for images. It is using optical character recognition to digitise printed materials, making them accessible to people with print disabilities, and is assisting with automated accessibility testing.
Validate against the latest standards
The DAISY Consortium provides an excellent ePub validation tool called ACE. You can download it for free here. At Westchester Publishing Services, we use this tool as part of our accessible ePubs creation process. (The DAISY Consortium also provides a wealth of other information for publishing professionals on its website.)
Explore shared knowledge
Inclusive Publishing is managed by The DAISY Consortium. This is a website that shares knowledge to make mainstream publications accessible.
Don't neglect formats beyond ePub
UKAAF is the UK Association for Accessible Formats. As well as accessible ePubs, their remit covers accessibility guidelines for Braille, large print, documents created in Microsoft Office and via Google, audio, html and PDFs.
Become a signatory of the PAAG
PAAG is the Publishing Accessibility Action Group. They manage a charter that publishers can sign up to (you will be in good company). If you are not a publisher you can sign up as an ally – Westchester has just recently completed a sign-up and pledged commitment to the values and goals enshrined by the charter. PAAG's objective is to embed accessible practices throughout publishing.
Stay up to speed
Accessibility standards are, as you would expect, being updated relatively frequently and the W3C ePub accessibility specifications 1.1 were released in May 2023. W3C's WCAG (web content accessibility guidelines) 2.1 guidelines also govern ePub standards.
Bring it all together
And ISO 30071-1 brings a wider view of accessibility together in your organisation, going beyond technical standards and embedding accessibility into the managerial processes of businesses that provide accessible digital products and services.
Work with an accredited supplier
A supplier with the right accreditation will be able to produce accessible ePubs for you, whether for your frontlist (this is known as 'born accessible', a goal within the industry) or providing backlist conversions. Westchester has the prestigious Benetech accreditation, which can be a good marker to look out for.
To help you continue your accessibility journey, get in touch if you have any questions.
---
The above article was originally published on the BookMachine blog on 24 July 2023.
---